On March 20th and 21st PMI had Murphy Rigging out of Minneapolis, MN in to move the last press, a Niagara 300 Ton Mechanical, into its new home. The Niagara press weighs over 80,000 lbs and stands over 17' tall.  Due to the height, they had to remove a main crane runway support beam and rail in order to skate the press into the new area.  The riggers had to lower the press into a shallow pit/foundation to make clearance for the overhead crane and improve ergonomics of operations at the press bed.  PMI has now re-located four press lines and one stand-alone press into our expanded press bay.  Erik Larson, Facilities Manager explains, "By re-laying out the lines and presses, PMI is able to operate more efficiently, create better material flow, and open up room for Cut-To-Length finished goods storage."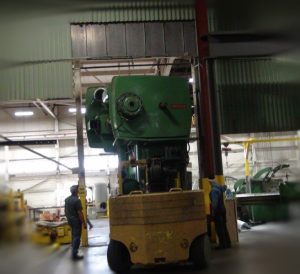 The Niagara is maneuvered through a narrow opening on its way to its new location.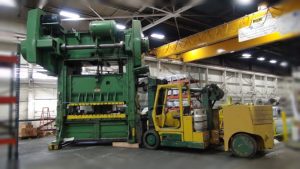 The Niagara is put on skates and moved by Versa Lift.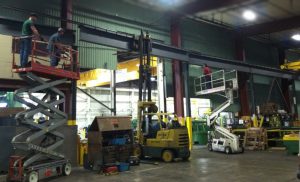 Murphy Rigging removes the crane runway support beam and rail to make clearance for the Niagara move