PMI enlisted the help of many businesses in the move and installation of our latest equipment acquisition – a 500 Ton Minster variable speed, coil-fed press. The move was complex due to the massive size of the press.
In October of 2014, PMI staff along with Murphy Rigging of Minneapolis, MN and TCR Inc. of Wisconsin Rapids, WI spent a week in Dresser, WI removing the press from Tenere. Challenges included a low ceiling and the weight and location of the press. A 13-axle truck and trailer with special permits hauled the press to PMI. Once the press arrived at Maintenance overhead door 4 here at PMI, it became evident the press was too large to fit through the door. With help from Northwest Builders of Rice Lake, WI, we were able to remove a portion of the garage door and open up the building by removing wall panels.
Once the delivery of the press was completed, PMI had to create room for the press in the press bay. This involved moving the Clearing 150 Ton press and the Bliss 22.5 Ton Press to new locations. After the presses were moved to their new homes, Northwest Builders excavated the floor and poured a new cement foundation for the 500 Ton Minster press. Murphy Rigging then returned to PMI to stand the press upright. PMI Maintenance staff worked with TCR to re-assemble the press and controls.
The acquisition of this new impressive press expands our capabilities for running higher tonnage dies. With added capacity, PMI is able to meet customer demands and opens up opportunity for future business. Acquisitions such as this demonstrate PMI's commitment to our Mission of providing products and services which constantly exceed our customer's requirements.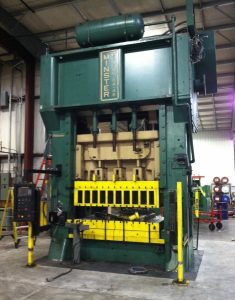 500T Minster Press stands in its new home in the press bay at PMI.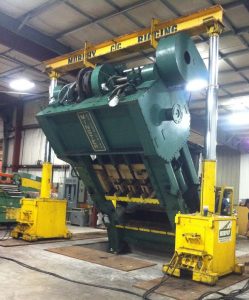 Murphy Rigging raises press in place using hydraulic gantry.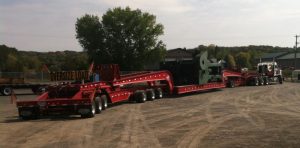 A 13 axle trailer (50 tires) was needed to haul the 166,000lb press which stands over 21 feet tall.