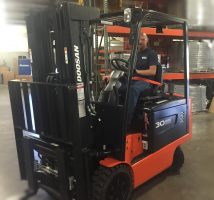 Efficiency is the name of the game in today's workplace.  PMI works hard to find ways of not only becoming more efficient, but to lessen the impact on the environment. The newest equipment at PMI moves the company in this green direction while they move material.  PMI has changed from propane to electric forklifts, reducing the carbon footprint.
The Doosan BC30S-5 forklifts are energy efficient and better for the environment.  They provide AC control on both drive and hydraulic motors generate more run time per battery charge which results in greater productivity and efficiency. The elimination of motor brushes, commutators and directional and hydraulic contactors decreases maintenance and minimizes downtime for reduced operating costs.
Stay tuned for more ways PMI goes green!