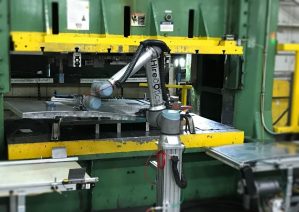 PMI is finding creative solutions to prepare for the future, including navigating the labor shortage! We've identified automation and robots as vital components of our future success and have invested in a new TruLaser 2030 Fiber Laser!
This March, we teamed up with Hirebotics, a company that rents robots and fully integrates them into our system. We added robots designed to feed and remove generator parts from the dies at the Danly and Warco stamping presses on the front line. The robots have been successful at decreasing the need for two employees to be working at the front line and they have also provided cost savings at an hourly rate!
As our capabilities expand, so do our opportunities for employee growth! We are currently recruiting internally for a Robotics/Automation Area Lead who will work hand in hand with Area Leads to implement robotics and automation to their areas.
The Trumpf Trulaser 2030 Fiber Laser will increase our capabilities while increasing our efficiency! This new technology will cut sheet metal faster than CO2 lasers, on thinner material. It will also use less consumables and create cost savings as compared to CO2 lasers. Our Area Lead and Operator for the Fiber Laser traveled to Connecticut to train on operation and are excited to operate this new equipment, which will be located in Building 2 to the south of the 3030 Laser.
Stay tuned for more ways PMI is finding creative ways to grow!